+ Description and Overview
High-performance capture. Touch-display convenience.
Capture your world with HERO4 Silver, the high-performance GoPro with a built-in touch display. Controlling the camera, framing shots and playing back content is now ultra convenient—just view, tap and swipe the screen. HERO4 Silver captures 1080p60 and 720p120 video with lifelike clarity, plus 12MP photos at a staggering 30 frames per second. Built-in video trimming1 lets you create and save short highlight clips for easy sharing. HiLight Tag enables you to mark key moments to make them easier to find later. Waterproof to 131' (40m), HERO4 Silver combines versatility and high-performance capture with the convenience of a touch display.
+ Manufacturer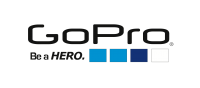 Aenean mattis lobortis nibh non dapibus. Vestibulum interdum nibh nec sapien porta dapibus. Quisque ultrices ultricies ipsum sit amet molestie. Aliquam ultricies viverra urna, et accumsan enim venenatis at. Class aptent taciti sociosqu ad litora torquent per conubia nostra, per inceptos himenaeos. Morbi ullamcorper felis nec malesuada aliquet.