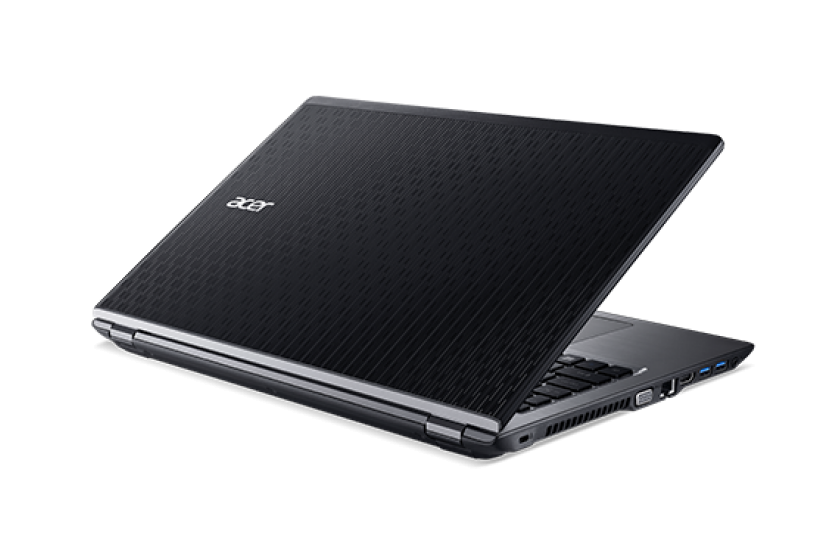 Windows 10 Home
Intel® Core™ i7-6500U processor Dual-core 2.50 GHz
39.6 cm (15.6") Full HD (1920 x 1080) 16:9
Nvidia® GeForce® 940M with 2 GB Dedicated Memory
4 GB, DDR3L SDRAM
1 TB HDD
+ Description and Overview
Elegant design
Impress with a premium aluminium cover that features nano-imprint patterning technology. This gives the cover a highly stylised texture that looks and feels great. A spacious backlit keyboard is also included for enhanced productivity in low-light environments.
Smart connections
Stay connected with power-off USB charging to keep your mobile devices running. Precision Touchpad and a 10-point touch display mean you'll never miss a tap*. Aspire V 15 is also Skype™-certified and has 802.11ac wireless* with cutting edge MU-MIMO technology* for faster downloads, smoother streaming and better browsing.
Inner strength
Looks aren't everything! Aspire V 15 comes equipped with the latest generation Intel® core processors, up to 16 GB of system memory, and HDD or SSHD drive options. Acer BluelightShield™ helps reduce harmful blue light from the screen and Dolby® Digital Plus Home Theatre™ sound* will bring your music and movies to life.
+ Manufacturer

Aenean mattis lobortis nibh non dapibus. Vestibulum interdum nibh nec sapien porta dapibus. Quisque ultrices ultricies ipsum sit amet molestie. Aliquam ultricies viverra urna, et accumsan enim venenatis at. Class aptent taciti sociosqu ad litora torquent per conubia nostra, per inceptos himenaeos. Morbi ullamcorper felis nec malesuada aliquet.