Submitted by

administrator

on Fri, 08/19/2016 - 15:43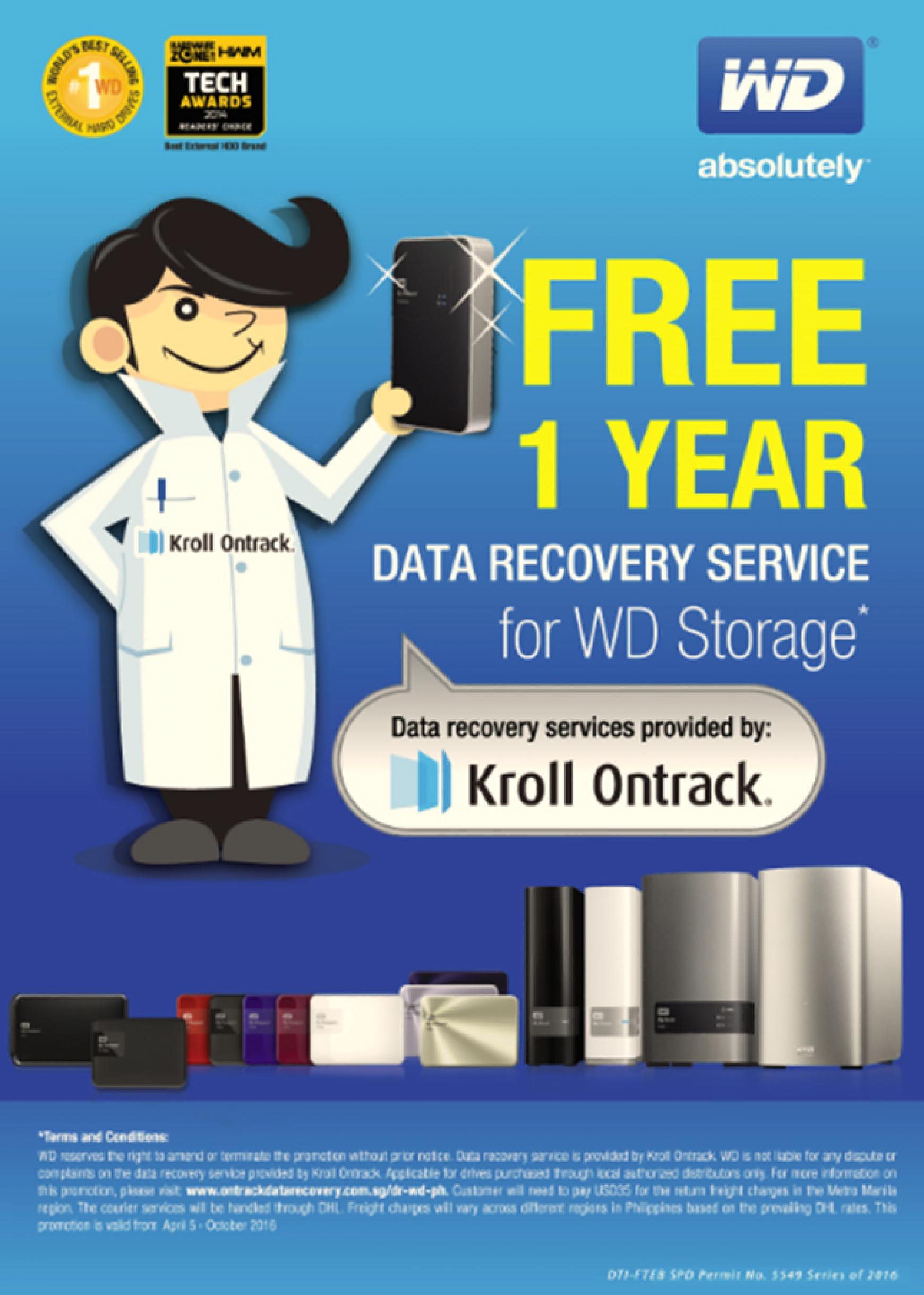 Promo Mechanics:
This promotion is open to all WD customers residing in the Philippines. The promo runs from April 15, 2016 to October 11, 2016.
Customers who purchased any of the following participating WD products in authorized dealers and retail outlets in the Philippines are eligible for free data recovery for 1 year to be provided by Kroll OnTrack.
To avail of the Free Data Recovery, customer will have to register their purchase on the website within sixty (60) days from invoice date to be eligible. Customer needs to scan the proof of purchase / invoice and upload it to www.ontrackdatarecovery.com.sg/dr-wd-ph
If customer encounters problem registering online, customer may email customerservice@ontrackdatarecovery.com.sg with the following:
Scanned copy of the proof of purchase/invoice
Product serial number
Date of purchase
How to avail the Free Data Recovery:
If within one year, customer will require the free data recovery service, customer should email or contact Kroll Ontrack (KO) directly via http://www.krollontrack.com/
KO will send customer an online credit card payment link to the customer for the back and forth shipping cost payment amounting to Php 1,610.00 for Metro Manila, freight cost will vary across Philippines in the different regions based on the prevailing DHL rates.
KO will arrange DHL to pick up the failed WD hdd from customer's address.
KO will manage the hdd replacement (RMA) from WD. After the data recovery process, the recovered data will be copied to the replacement hdd and ship back to customer's address via DHL.
Turnaround time varies and will depend on several factors but not limited to: (1) size of drive; (2) condition of the drive; (3) extent of damage; (4) workload of the third-party service provider
WD nor Kroll Ontrack guarantee the quality or quantity of data recovered.
Employees of WD, its authorized participating distributors and stores, their agencies—including their relatives up to the second degree of consanguinity or affinity—are disqualified to join the promo.
 In case of dispute, the decision of WD and its agency, with the concurrence of DTI, shall prevail.
Per DTI-FTEB SPD Permit No. 5411Series of 2016